We choose sustainability every day.
Last November, the world population surpassed the 8 billion mark, according to the UN's estimates. At the same time, climate change and the extreme natural phenomena it brings are threatening food production all over the world.
Agriculture and our line of business are at the focal point of these global challenges. The need for food production is at an all-time high, and sustainability is a key concern. On this front, we have succeeded in many ways, and there are signs of change in the air, but a lot remains to be done still.
When I think back on our last year, what stands out is the increasing use of recycled and recovered materials and finding the supply channels for it. We are using more and more recycled materials to manufacture our final products.
Record-setting production and sales numbers are also a clear indicator of our commitment to this strategy. Our core idea, Focus on Feed – stop feed waste, remains at the very centre of our developmental goals.
Our products are a small part of a successful harvesting chain, but their impact is vast. When we succeed, farmers can work with improved operational reliability, lower overall costs and less strain on the environment.
In order to focus on our impact, we developed the Conscious Compass last year to ensure that we maximise the positive impact of our products and stay determined in moving forward with our entire work community.
In these times, a compass is more than welcome. Predicting the future is becoming ever more challenging, and the view into what lies ahead is at times shorter than we'd like. It takes tenacity and a high tolerance of uncertainty to navigate through the tempests and turmoil of international business.
Without our skilled and steadfast people, we wouldn't have succeeded in our mission. A key aspect of our Conscious Compass is to be a responsible employer that takes care of our professionals and their well-being, work environment and financial security. This will remain at the heart of our efforts.
As we succeed together, we get to feel like we're on the side of hope: testing, developing and introducing new solutions to the world's challenges.
Let our compass and actions serve as an invitation and encouragement for others to join us on this journey! The little things can sometimes have a big impact.
---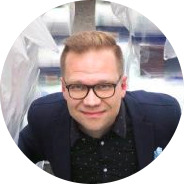 Regards,
Jukka Keisanen