Piippo Hybrid Edge Master is Piippo's most popular netwrap due to its reliability, length and strength.
More than 10% better spreading on the bale combined with a high tensile strength guarantees minimal waste and excellent preservation of feed. Appropriate UV protection ensures the durability of bales during outdoor storage.
The high quality is also reflected in the Hybrid Edge Master netwrap core strength and the airtightness of the packaging bag. They ensure that the reliability of the netwrap is not compromised even after long storage.
Unique machine technology and carefully selected raw materials enable achieving a sufficient tensile strength with less plastic, allowing for longer rolls. More metres of netwrap on the rolls lead to lower transport costs, decreased netwrap change times on the field and reduced packaging waste.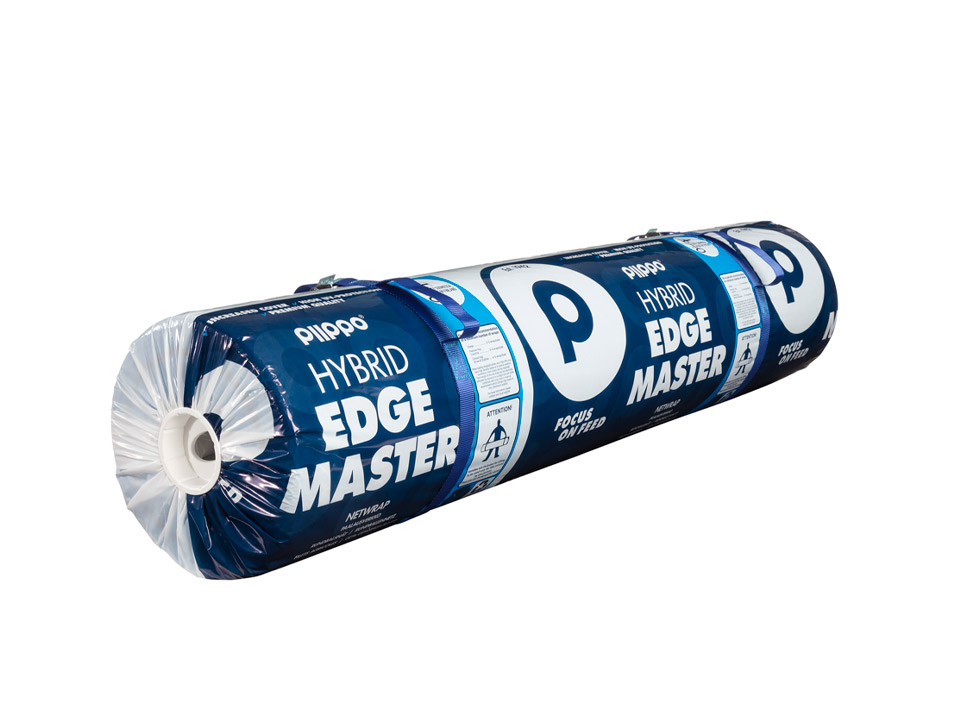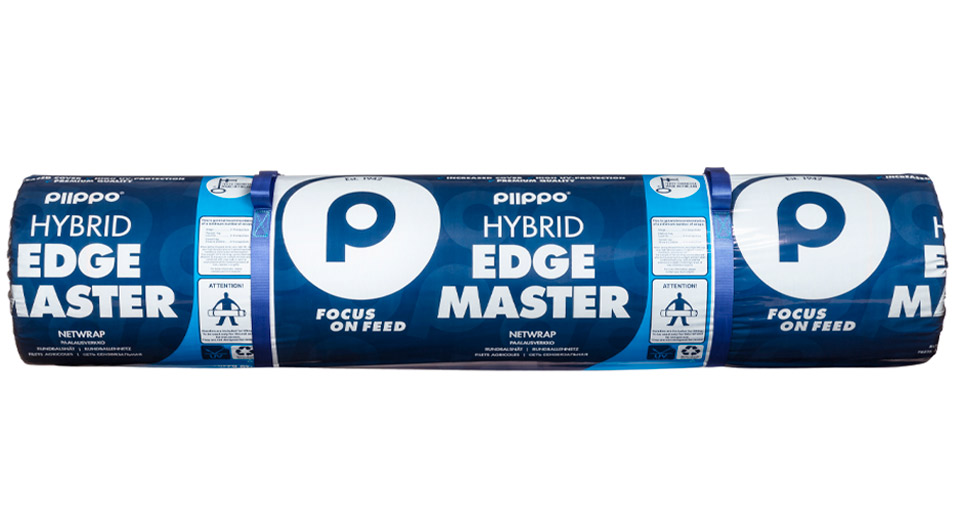 Features
Information
Dimensions and specifications
Download brochure
10% improvement in terms of spread One size fits all balers.
White Cap system: A white stripe on one side of the net wrap along with the white cap label ensures that the net is installed correctly in the baler. The stripe also indicates the correct opening direction of the bale.
Super Core: A strong and durable core with improved moisture resistance prevents operational problems in shaft-mounted balers. Inside the core there is the product's quality control number.
Double end warning stripe: The first red stripe catches your attention 50 metres before the end of the roll with the second one appearing at the 25-metre mark, helping you use the entire roll and prepare for a roll change.
Double pallet system: The netwrap rolls are packed on two pallets, which are placed on top of each other and wrapped with plastic. The pallets can be easily separated for transport when necessary.
Packaging: Recycled and recyclable material.
Hybrid Edge Master is the strongest, longest and most light-weight bale netwrap
The weaving and raw materials enable the longest roll possible
High UV protection
Keeps the bale together using 15–20% less netwrap than standard netwraps on the market
Up to 500 bales (diameter 1.5 m; two layers) with a 4600-metre roll. The raw material composition makes it easy to cut the netwrap
More meters, fewer rolls, less packaging waste, lower transport costs

0 % waste or by-products created in manufacture

Contains a significant percentage of recycled material
| | |
| --- | --- |
| Width | Lengths |
| One size fits most balers | 4600 m, 4000 m, 2600 m |