Ultimately, it is all about our skillful personnel.
I knew immediately that things had to change. I was standing in the middle of a field in Southern Sweden next to a local farmer's John Deere baler, finding myself unable to sufficiently help with a net wrap's feeding problem. Before I took up my position as managing director, I was a sales rep, travelling across the country, just as on the day I refer to above. I had worked at Piippo for years, growing within the company and being given an increasing amount of responsibility.
In other words, I could look back on a lot of field days and meetings with clients. We also had everything going for us, starting from the most innovative products on the market. At that moment I nevertheless knew that we had to roll up our sleeves even further, get even closer to our customers and serve them when they needed help. Since that day, we have enhanced our technical support, and focused our skills strategically and precisely on what we do best: baling net wrap and baling twine. And the functionality of the products under all conditions and in all balers.
Ultimately, it is all about our skillful personnel. The people who have been rolling up their sleeves for years now and the newcomers working alongside them. All this brings about the right direction for our activities and our strong competitiveness. Operational reliability, sustainability and continuous improvement are and will continue to be the cornerstones of our activities.
We began as a family enterprise and we share our values and ambitions with our committed partners who are often also family enterprises. We want to continue developing our industry together with them and grow side by side with them. This is a good foundation to build upon. We and our products must be increasingly strong and sustainable – only then can we overcome future challenges. No feed can be wasted.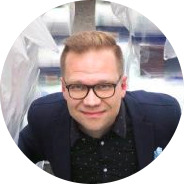 Regards,
Jukka Keisanen